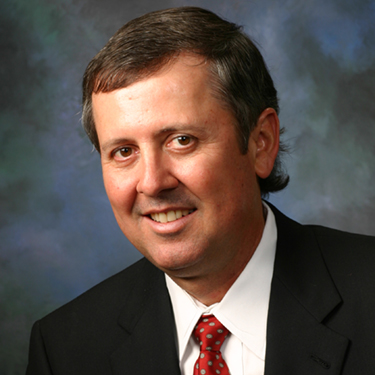 Dr. Jim York has been practicing anesthesiology since 1985. He enjoys all aspects of anesthesia including general, obstetric, vascular, cardiothoracic, orthopedic, pediatric, and neurosurgical cases.
An honored graduate of the University of California, Santa Barbara, Dr. York achieved his Doctorate of Medicine at the Uniformed Services University of Health Sciences, Bethesda, Maryland. Upon completing his internship at the Naval Medical Center in San Diego, Dr. York was stationed aboard the aircraft carrier USS Constellation for a year. He returned to San Diego to complete his residency and fellowship training in cardiothoracic anesthesia and in critical care medicine. The Navy asked him to serve as Director of Residency Training for the busiest tertiary care hospital in the Navy, where he gained expertise both training residents for a multitude of complex and difficult surgeries and personally practicing many aspects of anesthesiology. In San Diego he served as a member of the Executive Committee, Chairman of the Clinical Competence Committee, and Director of Cardiothoracic Anesthesia for the Department of Anesthesiology. In private practice, Dr. York also gained extensive clinical experience in Labor and Delivery Obstetric Anesthesia at Mercy Hospital, San Diego. In 1994, he was asked to join the practice of Anesthesia Consultants Medical Group here in Dothan with many of his ex-Navy colleagues. During his time in Dothan, Dr. York has served as the President for Anesthesia Consultants Medical Group, and the Medical Center as a member of the Quality Assurance Committee, Credentials Committee, Chairman for the Department of Anesthesiology, and Medical Executive Committee. In addition, he has been chosen to serve as the Medical Director for Operating Room Services.
Dr. York is certified by the National Board of Examiners, a Diplomate of the American Board of Anesthesiology, and maintains Advanced Cardiac Life Support certification. Dr. York is a member of the American Society of Anesthesiologists, Society of Cardiovascular Anesthesiologists, International Anesthesia Research Society, Alabama Society of Anesthesiologists, Houston County Medical Society, and the American Medical Association. He is licensed by the State of Alabama.
Dr. York is a "military brat" and a Navy physician who has seen much of the world. His wife Kim, the other Dr. York, is a nursing instructor at Wallace Community College. His son Ryan is a graduate of Auburn University & now studies physical therapy at the University of South Alabama. His daughter Sara attends the University of Central Florida. As a family they are all proud to call Dothan home.